Get to the next level.
BRANDING

LOGO SYSTEMS, STYLE GUIDES & VISIONEERING

Modern tech advances and social media are changing how businesses market their businesses. Well-defined brand strategies, logo systems and style guides play a significant role in effective marketing that gets results.

UI/UX Web Design

WEBSITE PROTOTYPING & UI/UX DESIGN SOLUTIONS

Best practices for web application and website development solutions utilize user centric prototyping to create understanding around analysis, requirements, and usability – to deliver strong UX/UI solutions for engaging user experiences.

Services: Brand Identity SaaS Application UX Customer Engagement Operations Support Marketing Communications Support Marketing Website Design & Development

Services: Brand Identity Marketing Collateral Advertising Website Design

Services: Corporate Name/URL Brand Identity Brochure System & Mailer Marketing Poster Website Design & Development
Services
WE HELP POSITION BRANDS BETWEEN THEIR IDEAL CUSTOMERS AND COMPETITION WITH DISTINCTION.
Brand Visioneering & Strategic Consulting

Gain competitive advantage with a strategic brand analysis, user experience requirements consulting and visioneering blueprints to shape website initiatives and marketing campaigns for business growth.

Brand Identity & Logo Development

Strengthen the reach and effectiveness of your primary brand asset as a visual system of "signals" patterned across print and digital mediums to influence awareness, recognition and preference.

Brand Style Guides & Positioning Strategies

Achieve brand consistency with a brand style guide to help internal and external marketing and graphics teams stay on the same page, and present a unified vision of your brand to the public that achieves uniformity in your marketing and advertising.

Get more than just an improved visual look n feel from your redesign effort. Transform your website into an enhanced sales and BD tool that gets your business to the next level with brand differentiation, increased engagement, traffic and ROI results.

UI/UX Architecture & Design Consulting

Optimize industry leading user centric analysis and wireframe prototyping for your corporate websites/intranet, enterprise applications, and SaaS solutions to increase user engagement of core functionality and features.

Digital Advertising & Marketing Campaigns

Power your brand on the wheels of the digital highway and tap into targeted audiences with SEO guided creative content campaigns to influence the way your prospects and customers search, socialize and feel about your brand.
Meet Jerome D. Smith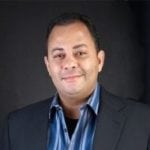 What inspires me is building creative delivery systems that foster collaboration among creative and technical project teams - whose purpose is to solve complex communications challenges. I have led award-winning creative, web and marketing solutions, but my true passion is helping others visioneer their business growth with a brand focus.